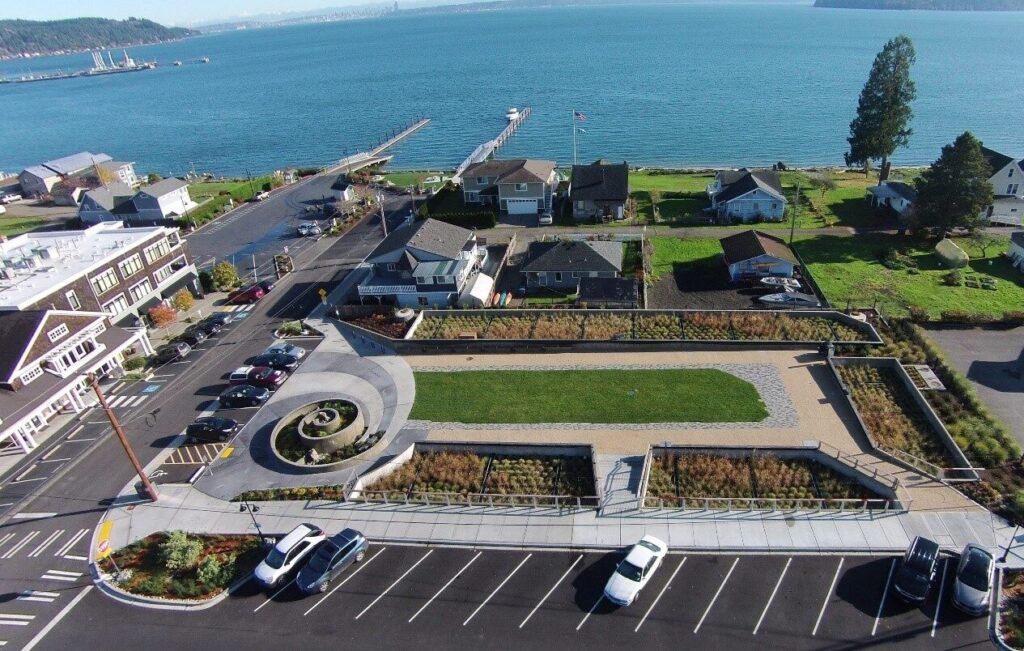 April is World Landscape Architecture Month. We're celebrating landscape architects for their role in deepening the connections between people and the environment, citizens and their communities. At Parametrix, our team of landscape architects have had the privilege of working on projects that have a profound effect on the places we live, work, and visit. Read more about those meaningful projects below.
#1 – Northern Quest Resort & Casino Grand Plaza
Airway Heights, WA | Client: Kalispel Tribe of Indians
The Kalispel Tribe recently completed a 50,000-square-foot casino expansion, complete with a nine-story, 200+ room hotel, and two-acre, five-story parking garage.
The improvements included a new 1.25-acre plaza in the profile of the iconic Kalispel Tribe sturgeon-nose canoe. The plaza serves as a new gateway and entry focal point. The design emphasizes elements of walkable communities such as on-street parking and narrow streets which were new additions to the Tribe's design language. It also features green spaces, creating a town square feeling.
Tule Reeds were used historically as a building material for Kalispel Tribe long houses. The team developed a stylized abstraction of tule reeds to create a sculpture garden at the "nose of the canoe" – this is the main entry to the property and first thing you see. The sculptures were again built by members of the tribe at their trade school.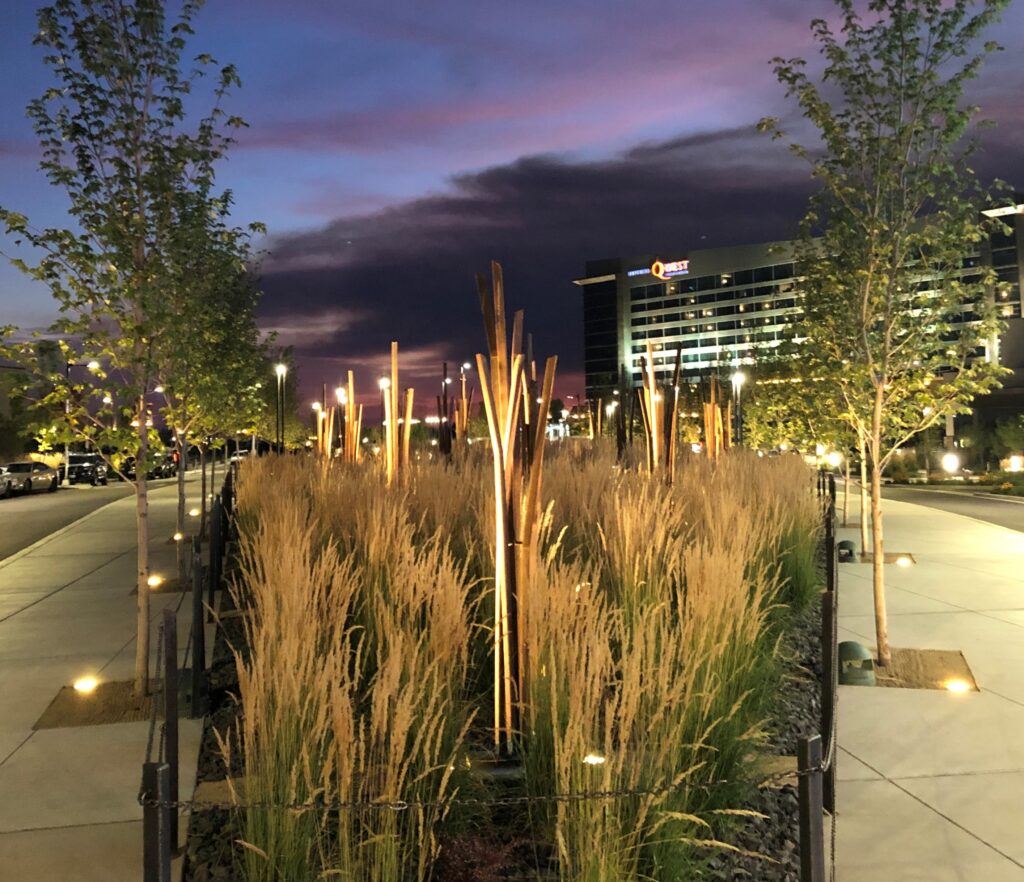 One of the team's favorite parts of the project was developing a plaza centerpiece fountain that told the Tribe's creation story. Parametrix landscape architects Darren Sandeno and Dylan Bailey met with tribal elders to hear their oral history. They distilled that into four key animals that have meaning to the tribe and their creation story. These panels and sculpture pieces in the fountain were built by members of the tribe at their trade school and then installed. It was a very collaborative effort.
#2 – Manchester Stormwater Park
Manchester, WA | Client: Kitsap County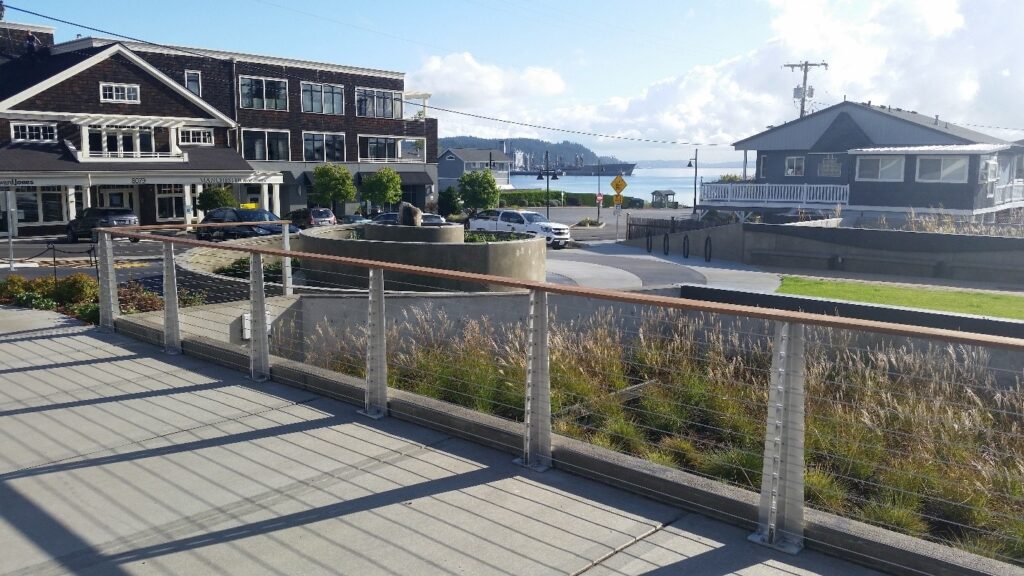 An empty lot in Manchester now does double duty as a pleasant community space and a workhorse to clean polluted runoff for Puget Sound. The Manchester Stormwater Park is the Puget Sound area's first stormwater park, and one of only a few such combined treatment/recreation facilities in the nation.
The project was initially designed to replace an aging and undersized outfall. However, Kitsap County recognized a unique opportunity to treat a larger drainage area and correct some flooding issues as well as enhance the community.
The Stormwater Park treats stormwater from roads, parking lots, commercial property, and residential areas from approximately 100-acres upland of downtown Manchester to today's strict standards through innovative Green Stormwater Solutions (GSS) using soil and plants.
Treatment cells located around the perimeter of the park process storm flows through engineered filter media and plants that can tolerate periods of inundation while also cleaning the runoff using filtration and absorption processes.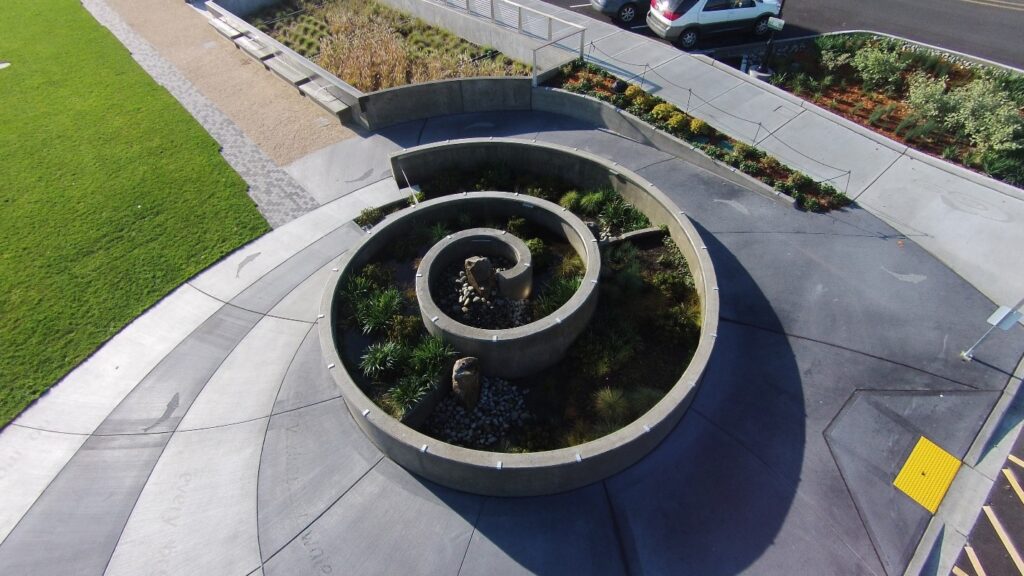 A unique design feature of the park is the spiral rain garden that intercepts low flows from groundwater and very light storms and treats it through bioretention soil mix and plants in the rain garden. Because the rain garden intercepts the relatively constant low flows, the life of the more expensive engineered treatment media in the treatment cells will be extended. Treated water is collected in a lower drainage system and subsequently discharged to a new outfall at the beach in Pomeroy Park.
The project has been recognized by several organizations for its innovativeness, including the American Council of Engineering Companies, National Association of Flood & Stormwater Management Agencies, Puget Sound Regional Council, and American Public Works Association Washington Chapter.
#3 – Whispering Firs Stormwater Park
Silverdale, WA | Client: Kitsap County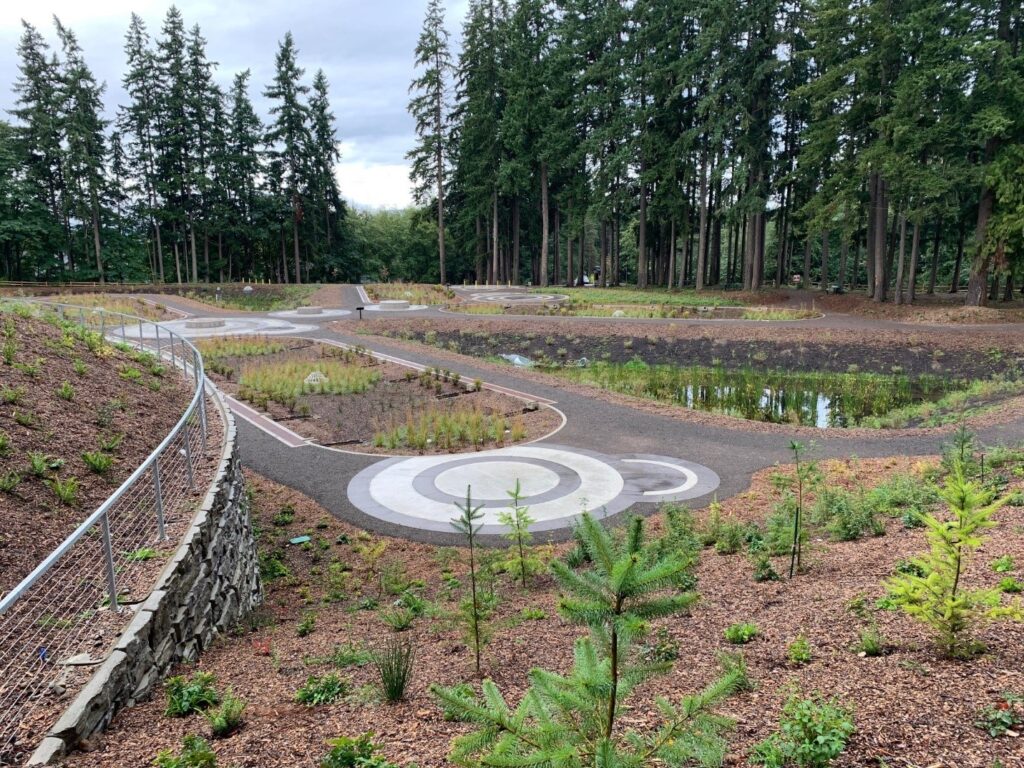 An abandoned 5-acre site formerly used as a trailer park has been transformed into a multi-function, multi-benefit regional stormwater retrofit facility. Runoff is treated using green stormwater techniques that meet current Washington State Department of Ecology water quality treatment standards.
Polluted runoff passes through state-of-the art water quality treatment cells containing engineered filter media and native plants that clean the water prior to discharge to the stream.
The facility also helps control flows to the stream. Two constructed ponds provide additional water quality treatment, but also serve to provide flow control of treated water prior to its discharge to Clear Creek. The ponds are designed to delay and reduce storm flows, helping to prevent flash-flows to the stream to prevent erosion.
The stormwater park also has two traditional low impact development rain gardens that treat surface water generated from parking areas
The facility also provides recreational opportunities for the local community, including walking paths and picnic areas, as well as bird and wildlife habitats and views of the Olympic Mountains.
Whispering Firs is one part of an ongoing effort to bring Clear Creek back to a functional stream ecosystem after being damaged over the years by farming and urban development. The project reduces flooding, restores the stream ecosystem, and improves downstream water quality in Dyes Inlet and Puget Sound.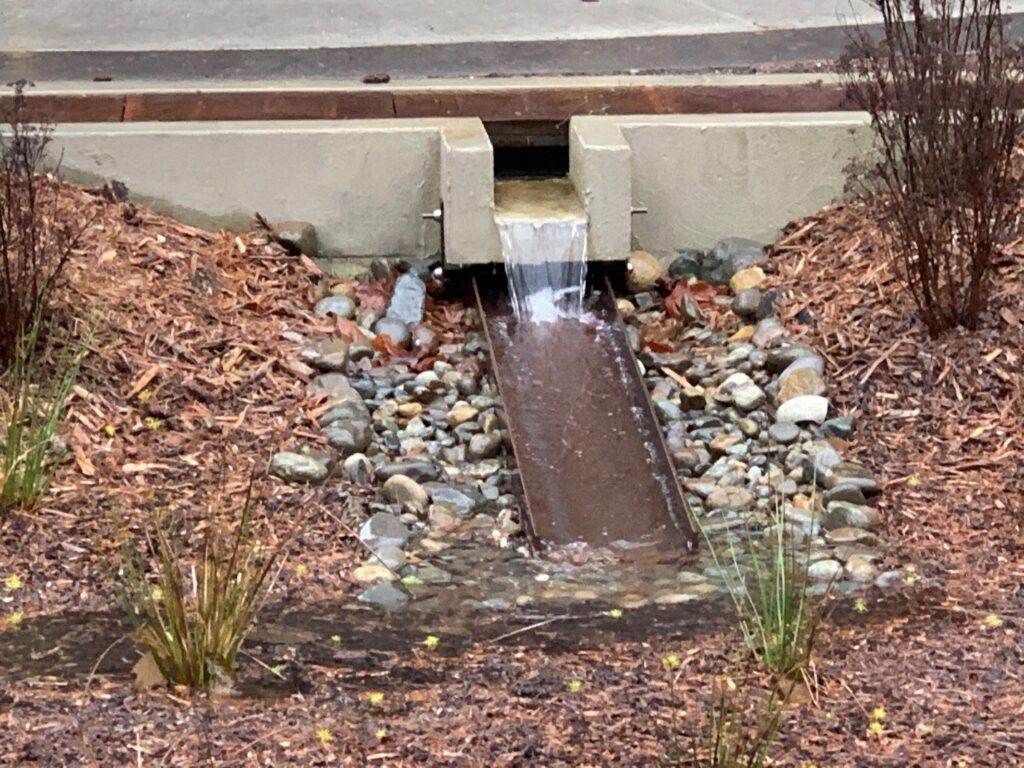 The $4 million facility opened in June 2019 and is currently treating stormwater runoff from 113 acres of high-intensity use roadway and adjacent residential areas. It has the capacity to treat significantly more developed land in the future. 
#4 – North Spokane Corridor Skyway
Spokane, WA | Client: WSDOT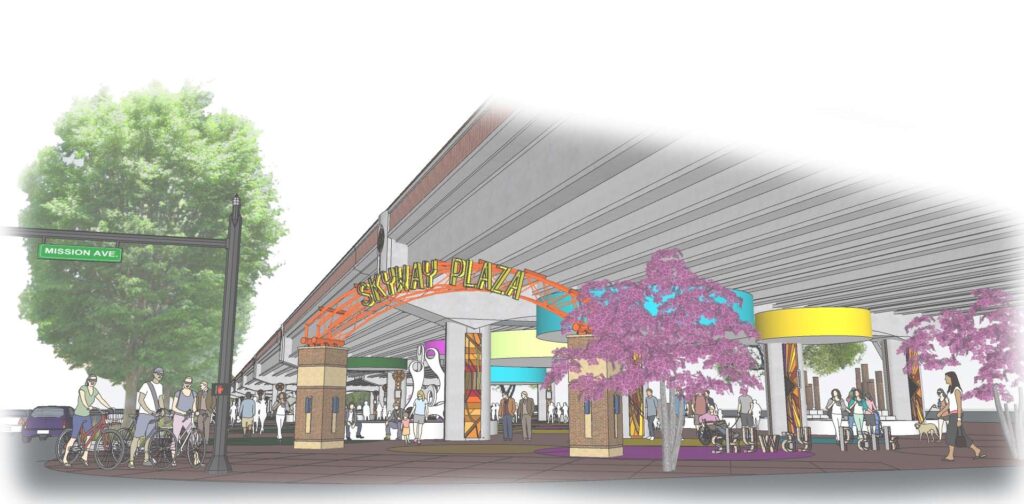 The North Spokane Corridor is a 10.5 mile stretch linking I-90 to US 2 and US 395. The corridor improves overall mobility by allowing motorists and freight to move north and south through metropolitan Spokane. Currently, approximately 5.5 miles of the corridor are open to traffic. The project is expected to be complete by 2030.
Parametrix is preparing predesign for public spaces underneath and adjacent to the North Spokane Corridor within the City of Spokane. This rendering plan helped the public to imagine how an art-themed urban plaza might be used to activate space below the future North Spokane Corridor Skyway adjacent to the Spokane Community College.
To solicit public feedback, the concepts were presented at workshops and via online survey. The feedback will direct predesign efforts, which will be incorporated into future design/build contracts.
To learn more about the North Spokane Corridor project, you can visit www.NSCPlace.com.