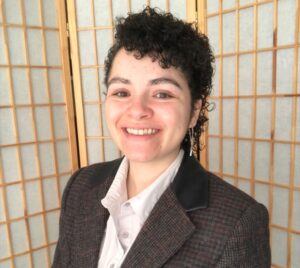 Meet Jo Johnson, an engineer with our Bremerton Transportation team who recently officially became a professional engineer! Learn more about Jo's career, goals, and advice for others pursuing their PE license.
Tell us about your professional background. What is your area of expertise?
I started as a geotechnical consultant for construction services right after graduating with my bachelor's in civil engineering at Saint Martin's, then transitioned into a design role in the Parametrix Bremerton office transportation design group. At Parametrix, I do roadway, stormwater, and utility design for local agencies in the Puget Sound.
What is your next career goal now that you've earned your PE license? What is your ultimate career goal?
I'm not sure what my next move will be career-wise, and I think that's okay. My PE license has opened a lot of doors, and I am going to take my time learning about the new opportunities available to me. As a personal goal, I'm going to focus on balancing work and life, as the pandemic has shown me that I can improve on this part of my life.
 What is your favorite project you've worked on?
The most transformative project for my career is the Silverdale Transit Center project for Kitsap Transit in Silverdale, WA. This project spans across multiple disciplines and has challenged me in many ways. I'm glad I've been able to be a part of the design team for the last three years and look forward to construction!
What advice do you have for others pursuing their PE license?
There is never going to be a good time to take the PE exam, life always happens. You're just going to have to set aside some time and commit to it instead of waiting for the opportunity to come. The longer you are out of school, the harder it is to study. So check that box early!
Anything else you would like to add?
Engineering is not all I do. I have a few creative pursuits outside work life and I enjoy traveling. Here is a photo of my recent completed project: