By Mike Brady, LG, LHG
Groundwater Awareness Week, taking place March 5 – 11, 2023, was established in 1999 to highlight the responsible
development, management, and use of groundwater. The week is also a good reminder to conduct yearly water well testing and well maintenance and promote policies that impact groundwater quality and supply.
Groundwater is an amazing resource that, when used effectively, can be a sustainable and reliable resource. In Western Washington, we are fortunate to have an abundance of water bearing glacial stratigraphy producing great subsurface aquifers, which many
communities rely on for drinking water. Parametrix supports many agencies and clients with groundwater evaluation, testing, and improvement projects
Sustainability of Groundwater Resources
Many communities east of the Cascades in Central and Eastern Washington rely on bedrock aquifers and have seen their drinking water and irrigation sources diminish with impacts from climate change, community growth and development, increased irrigation
demands, in addition to requirements for maintaining in-stream flows for salmon. Across the west, we continuously see news regarding historical surface water resources no longer viable and communities turning toward groundwater. These communities
have already seen the cost and impacts of overreliance, unsustainable growth, and dwindling resources. In many areas, it is coming down to who is able to procure their supply by buying existing rights and resources. Groundwater rights and regulations
play a major role in how sustainable groundwater resources can be. The other aspect remains community sustainable growth initiatives and regulations.
Despite the rainy reputation of Western Washington, our groundwater resources still have to be managed. Municipal and community water supplies take into account growth, well production management, and allowing recharge, as well as exploring new resources.
Year-to-year climate fluctuations are having an ever-increasing effect on groundwater sustainability. Management of groundwater resources plays a major role in ensuring that climate change and climate fluctuations can be mitigated. Water use education
is a vital tool to help limit the amount of water households require each day.
Threats to Groundwater Resources
As a hydrogeologist at Parametrix, my primary focus has been on water resources related to chemical fate and transport from known or suspected release sites such as landfills, brownfields, underground storage tank sites, and infrastructure. Our work assists
municipalities, counties, agencies, and private clients, ensuring that chemicals released into the environment are not affecting the public and private water supplies. To do this, we develop hydrogeologic cross sections and conceptual site models
to evaluate local and regional groundwater flow, determining risk to water resources based upon chemical and aquifer characteristics. Together with our environmental and chemical engineers, we develop engineering controls and systems to clean, mitigate,
and restore our water resources. We also work with stormwater and infrastructure engineers to manage water storage, water re-use, transportation infrastructure, wastewater discharge, and evaluation of water resources to ensure water quality standards
are met for all aspects of risks for human consumption and releases to the environment.
What is Hydrogeology? Hydrogeology is the study of groundwater movement, occurrence, and chemistry within the earth. It involves  the evaluation of geologic soils and structures, hydrology, and subsurface interpretation to develop basic
understanding of water balance, chemical fate and transport, and groundwater sustainability.
As hydrogeologists, we are at the forefront of risks to public health responding to assessment of traditional and emerging contaminants to water resources.
Emerging contaminants such as polyfluoroalkyl substances (PFAS) and 1,4-dioxane have garnered the attention of groundwater supply purveyors as well as the general public. Many traditional contaminated sites that we manage are suspected as having the emerging
contaminants. We routinely work with regulatory agencies to ensure risks to human health and the environment are mitigated while continuously evaluating the new science and risk calculations for appropriate decision making.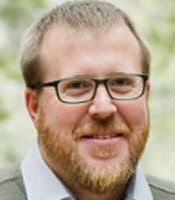 Mike Brady, LG, LHG is a hydrogeologist at Parametrix with 18 years of experience. He has a broad range of experience in environmental and hydrogeologic assessments with a background in production well drilling, aquifer assessments, groundwater-surface water interactions, mass balance of land use changes, hydraulic testing, groundwater monitoring and compliance, and hydrogeologic interpretation.