Quileute Tribal School, 2022. Photo courtesy of Quileute Tribal Schools.
As the year comes to an end, we're highlighting some of our favorite projects from 2022 that demonstrate our commitment to making a difference in the communities we serve. The Quileute Tribal School and Move to Higher Ground project, led by Parametrix Project Manager Susan Devine, was named Parametrix's 2022 Project of the Year.
Project Overview
The Quileute Tribe is located on the Northwest coast of Washington State, with housing, administration, and school facilities all located within critical flood and tsunami hazard zones. Every day, the Tribe's children were attending school less than 200 feet from the Pacific Ocean and only 20 feet above sea level. Winter storms, heavy rainfall, high winds, and flooding often cause blocked roads and power outages.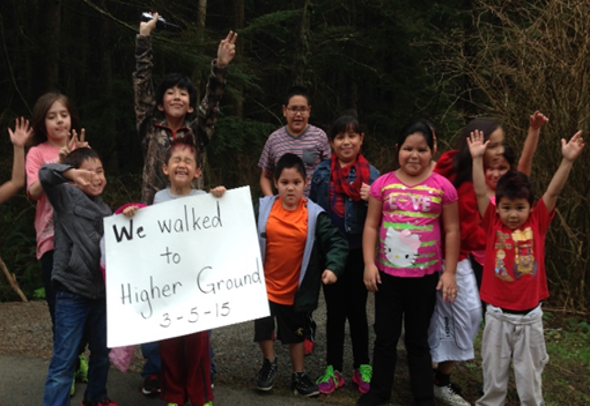 When the Bureau of Indian Education and Bureau of Indian Affairs released a grant opportunity through the No Child Left Behind Act in 2015 to assist overcrowded, unsafe, dilapidated, and structurally insufficient schools, Parametrix assisted the Tribe in obtaining over $50 million for the Tribe's new K-12 school. Only two other schools were funded when the Quileute Tribe was awarded the funds, marking the significance of such an award.
Community Involvement
Parametrix team members aimed to integrate with the Tribal staff and community by being on site regularly throughout the conceptual planning and design of the project. The team was graciously welcomed into many community events including Veteran's Day, Quileute Days, Drum Circle, Canoe Journey, and holiday festivals.
Collaboration and Partnership
Parametrix led the early concept planning and design, assisted with selection of the architect and contractor, and remained involved throughout the course of the project. Graham Construction and Rice Fergus Miller architects became key project partners. Employee-owners throughout the Puget Sound, Oregon, and Idaho were involved to provide owner's representative, construction administration, and engineering services, including landscape architecture, water supply, stormwater, and wastewater conveyance. Parametrix also provided layout, design, and graphics throughout the project, including the grant application, master plan, and community and media events.
Blessing Ceremony on Higher Ground
Upon completion of the new school in 2022, the Tribe conducted a Blessing Ceremony on Higher Ground. It was a beautiful event, marking the beginning of a new chapter for the Quileute Tribal School – safely on Higher Ground.