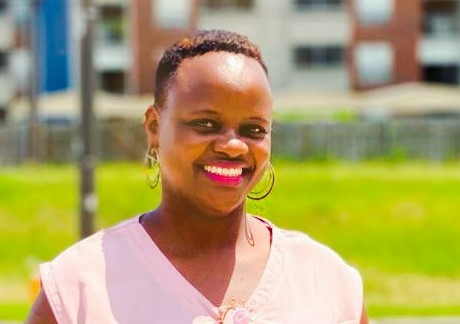 We're pleased to welcome Pamela Mugisha as an intern with our Puget Sound Water group! We asked her a few questions about her background, career, and goals.
Education: I got my bachelor's degree in Agricultural engineering from Makerere University, Uganda. Then I got my Master's degree in Hydroscience and engineering from Technical University Dresden in the Saxony state of Germany. Currently I am pursuing a PhD in Environmental engineering at Texas A&M in Kingsville, Texas.
Where did you grow up? I grew up in the capital of Uganda, Kampala. But my Village is Kisoro located at the South-West border of Uganda and Rwanda.
Why did you choose Parametrix for your internship? I chose an internship at Parametrix because I have learned quite a bit in school and would like to use my knowledge to make real-life impact and decisions in a company that affords me the opportunity to grow and share my views. Parametrix did just that, right from the interview process, I was asked about my view on things, and that is what drew me to choose an internship with Parametrix.
What would you like to accomplish during your internship? What are your long-term goals? I would like to gain experience on Project management, from start to execution. I would also like to learn how to write technical/engineering reports and grants, which I imagine is quite different from writing in academia/school. At the end of my internship, I need to make a presentation to a group of Environmental engineering students (sophomore, junior, seniors and grad students) here at TAMUK about my work with Parametrix, and I look forward to sharing a project I will have worked on. Upon graduation, I hope to work as an engineer on a variety of projects and in 5 years or so raise to Project Manager.
Anything else you would like to share about yourself? I love swimming as a hobby (because I love water😊). It's sad that because of the pandemic, most public pools are closed, and I can't get to swim as much. Familywise, I'm married, have a lovely son who will be making 7 years this December and is my whole world. I don't like pets much and fear dogs 😊