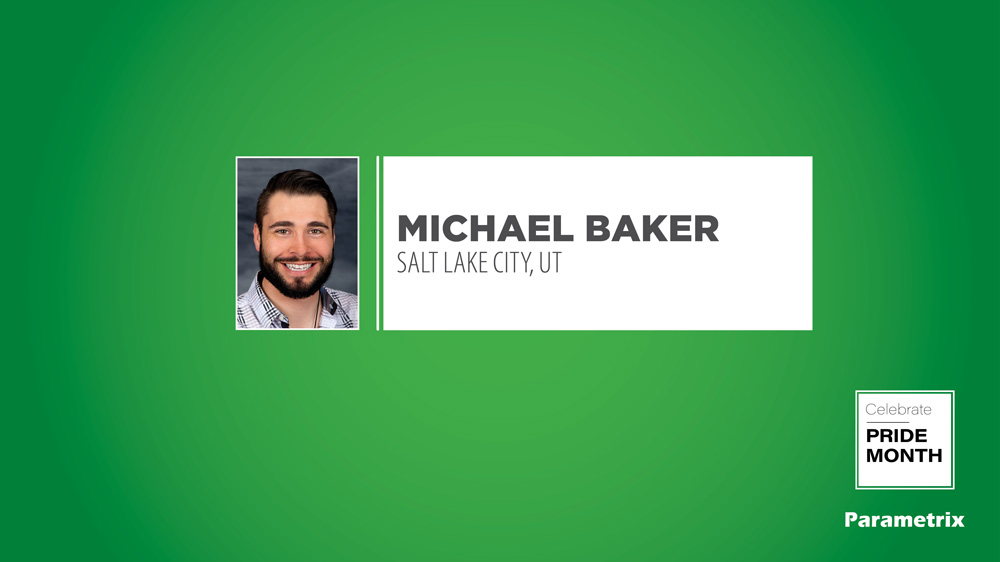 We're extending our celebration of Pride Month for one more employee-owner feature. Michael Baker is a transportation planner based out of our Salt Lake City office. He has been with Parametrix for nearly 10 years.
What does Pride Month mean to you?
To me, Pride Month is about embracing who you truly are. It's exhausting and unsustainable to pretend that a part of my family doesn't exist while embracing other aspects of who I am. Hence in the spirit of Pride Month, I'd like to take this opportunity to come out as bisexual and in two happy, ethical polyamorous relationships. Naturally, this can make introductions (not to mention scheduling) a tad complicated as in, "this is my fiancée Erika, my boyfriend Austin, and his husband Arlo." The four of us regularly spend time together whether that is over brunch, dinner, or a weekend of camping. I've been blessed to have Erika in my life for over nine years and Austin for almost two.  
What inspired you to come out?
A few elements aligned to provide the motivation to take this step in openly being myself. Being in the closet is tiring and life is too short to pretend to be someone you are not. You are constantly trying to cram yourself into a self-created mold based on how you perceive society's expectations. The Diversity, Equity, and Inclusion initiative at Parametrix was another other motivating factors. Finally, the support of colleagues, my boyfriend, my fiancée, and other employee-owner Pride Month features have all been sources of inspiration. I feel fortunate to be an employee-owner in a company that enables me to be myself.
What are your hobbies outside of work?
When not at work, I enjoy exploring Utah's backcountry at all times of the year by camping, off-roading, hiking, river running, and skiing. I also love traveling but that has been significantly curtailed and modified given the current circumstances. My dog Sophie—when not napping on the couch—is always keen to remind me that it is time to take a break for walkies or playtime. Audiobooks and podcasts are another passion of mine and I'm always happy to trade recommendations. Does brunch qualify as a hobby?