Kristen McCoy was selected as Parametrix's 2023 Employee-Owner of the Year! We select an Employee-Owner of the Year annually during Employee-Ownership Month. Kristen was previously the Parametrix Employee-Owner of the Year in 2015. She serves as Operations Manager for the Oregon/Idaho region, based out of the Boise office. Learn more about Kristen in her responses to the questions below.
How does it feel to be the first-ever two-time Parametrix Employee-Owner of the Year?
It feels incredibly humbling to be recognized as the Employee-Owner of the Year. Parametrix is a great place to work with an exceptional group of people, and to be recognized like this really means a lot.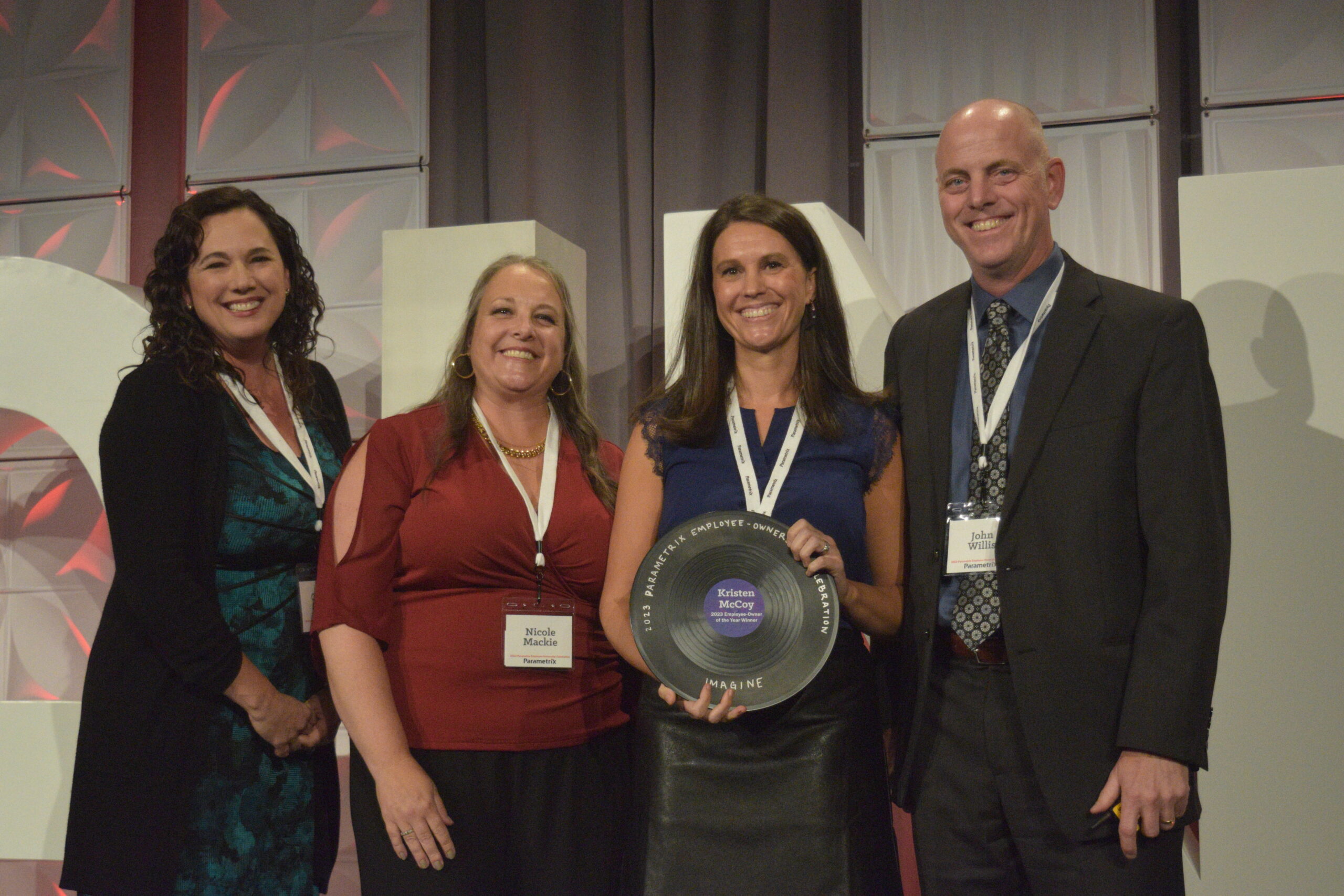 Kristen accepts her award at the Employee-Ownership Celebration alongside Parametrix ESOP Trustees Cindy Clark and Nicole Mackie and Parametrix CEO John Willis.
Backing up a bit – you joined Parametrix in 2006. Tell us about how your career has evolved since then.
I started at Parametrix as a Project Coordinator right after graduating from Boise State. I stayed in that role, learning how our projects work from the ground up, for several years before moving into a Planner position within Community Building.
Over the last few years, I have taken a very active interest and role with office operations for Boise. I moved to the Operations Manager for the region in 2023. I've been lucky enough during my tenure at Parametrix to work on a wide variety of projects, be exposed to different clients, and work with a lot of different people and teams.
Amongst all the positions I've held through the years, the one thing that's been my favorite and what keeps me motivated is the people. Sounds cliché, but we really do have special people at Parametrix and I appreciate the commitment amongst all of them to best serve our clients, each other, and improve our communities!
Tell us about your current role as Operations Manager for the Oregon/Idaho region.
In this first year as the Oregon/Idaho Operations Manager, my focus has been on building connections. I've been working to collaborate with various groups within the region to see how I can connect people to one another, deliver our projects efficiently, and best serve the group and our clients. It's been very fun, and a lot of learning! Moving forward, I hope to get involved even more to build relationships that allow us to be efficient, grow, expand opportunities for people.
Looking back on this last year, what's something you've accomplished that you're proud of?
Well, this has been the most challenging year of my career – both in some hard ways, and really great ways. I take the most pride in the substantial personal and professional growth I've achieved. In just 10 months in a new region and role, I've gained a lot of valuable insight and grown a lot.
I've realized what a great group of people I have supporting me and learned the importance of adaptability and agility. There were moments when the obstacles appeared insurmountable, but by persevering and maintaining focus, I realized that I was steadily making progress.
I've come to understand that every job has its own set of challenges, and I've become more open to facing them. Working through these challenges not only teaches valuable lessons along the way but also provides a deep appreciation once they are overcome.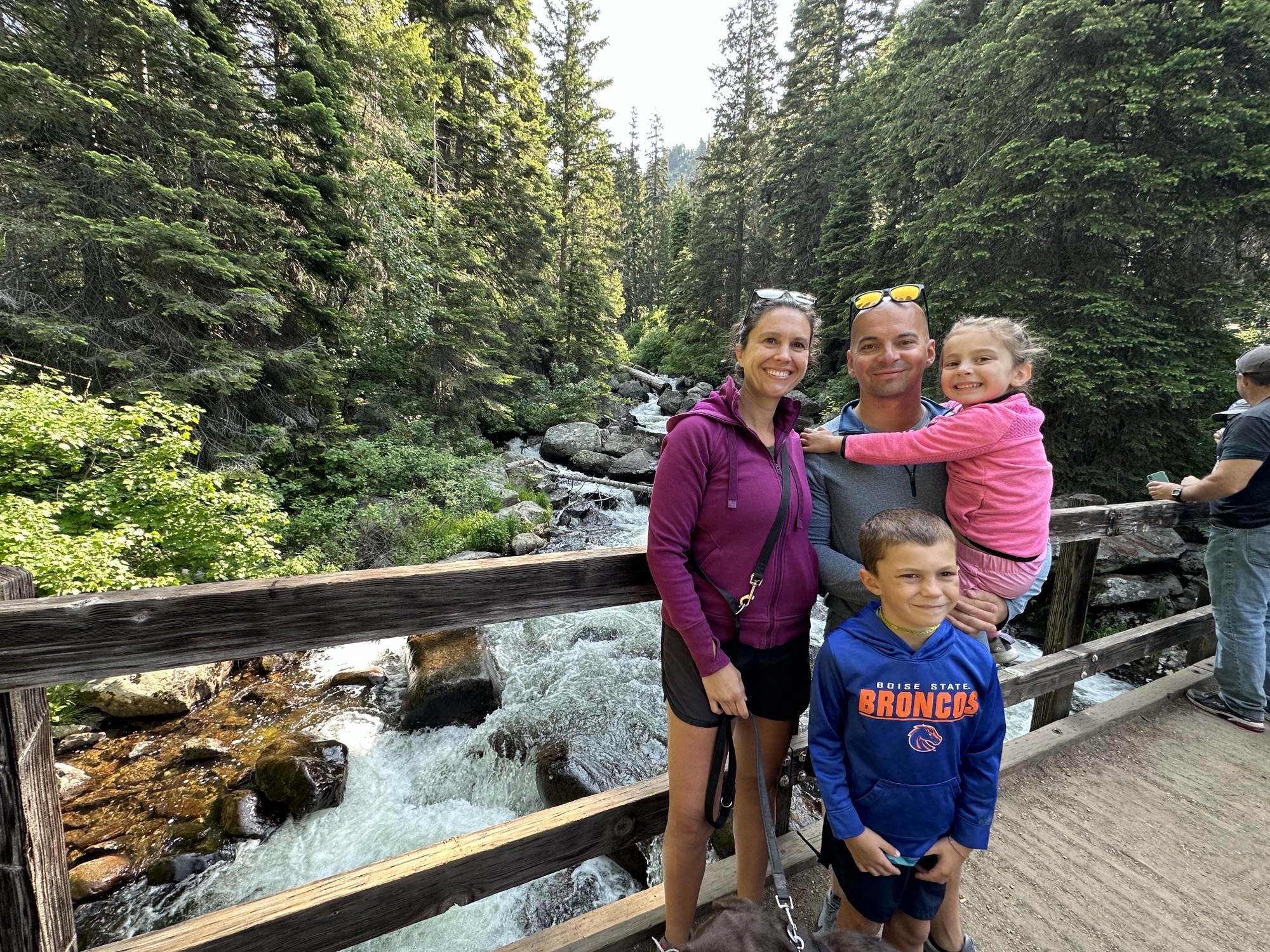 Kristen with her husband and two children.
What are you looking forward to in the year ahead?
I'm looking forward to continuing the momentum we have right now within the industry, Parametrix, and Oregon/Idaho region. I am excited about where we are going, the work we are doing, and the teams we are building. With a year of the new position behind me, I'm looking forward to some of the "newness" wearing off and being able to really get engaged in different projects and tasks.
What do you enjoy most about being an employee-owner at Parametrix?
The culture. Being employee-owned creates motivation and encourages us all to contribute our very best.
I love that we're all focused on the same goal with a personal stake in our success. Not to mention that the ESOP provides an incredible long-term personal financial reward!