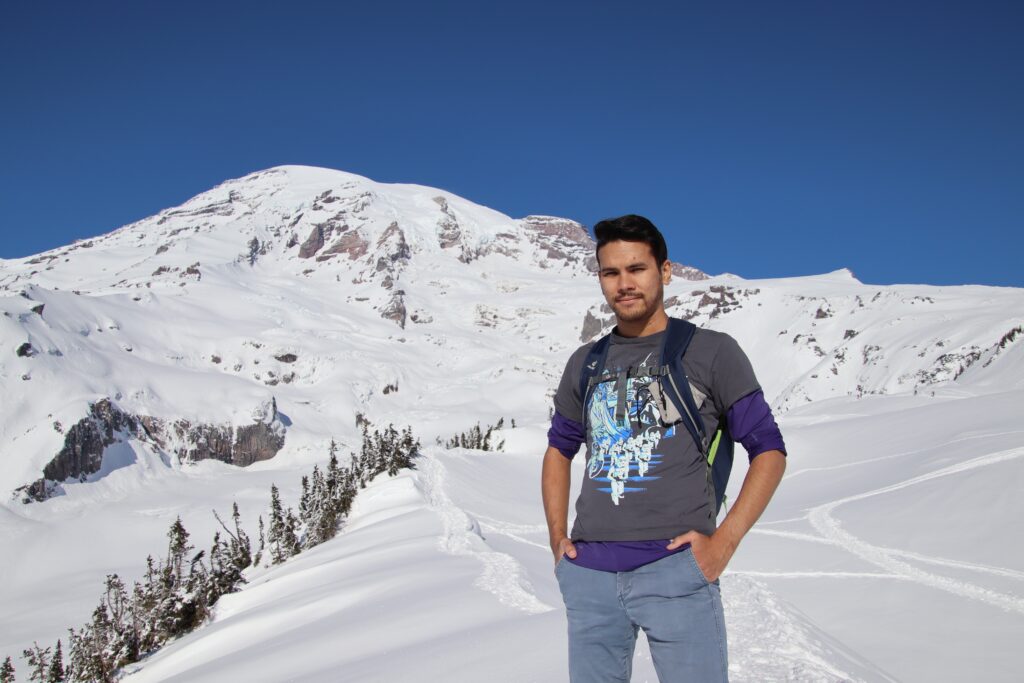 Cameron Carlson is an Electrical Engineer based out of our Seattle office, providing electrical power, instrumentation, and control services for water and wastewater utilities and public transportation clients. He has been with Parametrix for 6 years and recently earned his Electrical Professional Engineer license.          
We asked him a few questions about his background, what inspires him, career goals, projects he's working on, and his advice for others pursing their PE license.
Tell us about your professional background.
I have a BS in Electrical Engineering from Seattle University. Before I pursued this degree, I was a music major specializing in trumpet and jazz. I also tutor privately.
What inspired you to pursue a career in engineering?
There were many inspirations, but for the most part I didn't wake up as a kid saying "Look how good I am at Legos! I'm going to be an engineer!"
After high school, I was sitting in my parents' basement thinking about the future, and how difficult it has been making ends meet with music gigs. I also thought about how poorly I was doing in math and physics. I saw all these weaknesses in me and the dissatisfaction with my life and thought, "if I was a Jedi, I would make my greatest weaknesses my greatest strengths. If I make things I don't understand my expertise, maybe my life would be better."
The day after, I had a meeting with a community college counselor to discuss my grades and possible revocation of my financial aid. I told her I wanted to aim higher than music, confidently blurting out that I'm going to be an electrical engineer. She looked at my grades and said, "frankly your grades don't reflect that track. If you do this, you're going to be starting from scratch, and we're not going to support you."
I don't like being told I can't do something, and left her office determined to prove her wrong. She was right for awhile, I definitely failed my way up, but I kept pushing and now I'm here.
What is your next career goal now that you've earned your PE license? What is your ultimate career goal?
Next step I'm focusing on is project management and building relationships with clients. My ultimate goal is to kick back at my future cabin at some lake in the mountains on a Tuesday, so I'm all for whatever gets me there!
Which projects are you currently working on? What is your favorite project you've worked on?
Here it goes! *inhales*
For King County, I'm working with their Wastewater Treatment Division on the improvements of their forcemains and odor control at the Interbay Pump Station. It's a huge honor to be working on this, as I interned for King County, and my introduction to the world of design started with Interbay.
For City of Marysville, I'm designing the electrical and instrumentation aspects of a stormwater treatment facility that will also be a public park.
For City of Bellevue, I'm evaluating and designing the rehabilitation of several water and wastewater pump stations.
For City of Edmonds, I'm designing an odor control unit for their park, and assisting in the programming of the carbon recovery improvements in their wastewater treatment plant. Before they would burn their sludge, and now the plan is to turn the sludge into activated carbon. I also occasionally am called up to fix instrumentation or programming, so I put on that hat for them as well.
For the water district in Preston, I designed and am supporting the construction of a new reservoir.
My favorite project? This might sound mundane, but I really liked working with Joel Theodore, taking part in the design and construction of a wall for the downtown Seattle Sound Transit tunnel. Most of what I do isn't seen by the public, so for the split second that this wall is seen on the light rail, I can jump up and say "Guys! I made that wall!" and everybody will look like I'm insane, and go back to their phones. (And you too can witness this magnificent wall and share my enthusiasm if you travel northbound on the light rail- look to your right when you see a blue light around where the convention center used to be. Can't miss it unless you blink!)
My other favorite project hasn't happened yet, but I really liked taking part in the concept designs of solar bus stops with John Phillips for King County Metro. The future is going to be all about sustainability, and to have a small part in that future and stretch myself to learn about solar design was very rewarding.
What advice do you have for others pursuing their PE license?
Don't make a big deal of it. Just make it a priority to study some amount of time daily- for me it was 30 minutes. And never miss a day. My wife can attest that I had my book and calculator with me when we were backcountry camping the Olympics, in the twilight hours exclaiming "I got it! I can go to sleep now."
This might not be applicable for all PE exam types, but I only used the official practice exam book and the internet for study material. I went through every question, flagged all the ones I got wrong or didn't understand, and meticulously studied the topics that I flagged. There are books and classes available, and with the guidance of your coworkers, I think you should do what you know works for you.
Also be very aware of the formatting of the exam. They're transitioning them from paper and pencil to multiple choice computer-based. For computer-based, it is closed-book and you cannot bring in wheelbarrows of books like you could in the olden days. I kept a journal of my problems and the steps I took, tried to remember them as best I could, and flipped through it while I was in my lunch break.