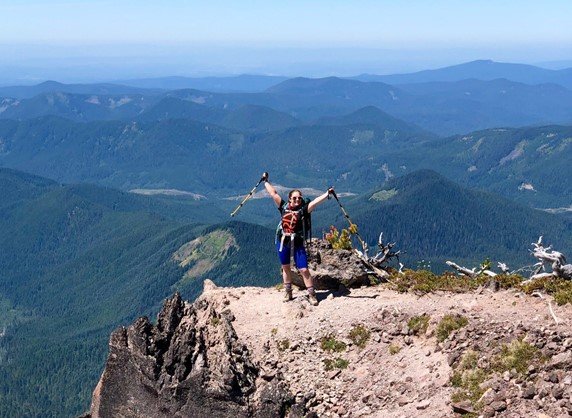 Clara Olson is a water engineer based out of our Portland, OR office who recently earned her Professional Engineer license. Learn more about Clara, the projects she's worked on, and her advice for others taking the PE test.
Tell us about yourself.
I grew up in Portland and after four years of college in Spokane (Go Zags!) and two years in the Puyallup office, Portland was calling me home again. I've been back in Portland for over two years and couldn't be happier. The Portland office was an easy transition and I love having the community in both Puyallup and Portland.
I love the outdoors and have been getting more and more into backpacking trips in the Pacific Northwest. This summer included a lot of hiking, camping, and backpacking! Mt. Rainier is one of my favorite places on earth and I was lucky enough to spend three different weekends in three different parts of the park this summer (Paradise/Longmire, White River/East side, Carbon River/Mowich Lake). I've also been partaking in a lot of outdoor distanced picnics this summer due to COVID. I'll have to find a cold-weather alternative for this winter.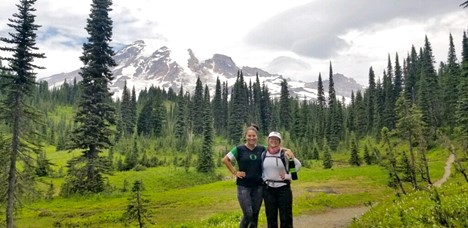 I also love to go clam digging with my dad, his brother, and their dad. It's an "OLSON" family activity that I started partaking in a few years ago. I'm still learning how to dig the clams up without cracking their shell, which my dad and uncle make look so easy! I'm especially excited because my first dig of the season will be this weekend.
Which projects are you currently working on?
One project I'm working on is the Mill Plain Boulevard Bus Rapid Transit (BRT) project for CTRAN in Vancouver, WA. CTRAN will be providing BRT stations along the Mill Plain Boulevard and a new transit center. I'm acting as the lead stormwater designer for the project. It's the first project where I've taken on this much responsibility and it's both exciting and nerve wracking. Thankfully Parametrix has such great mentors that it's been a great learning experience and is definitely more exciting than terrifying.   
What's your favorite project you've worked on in your time at Parametrix?
My favorite has been the Montesano Wastewater Treatment Plant Log Jack project. This was such a unique project and I loved seeing it come together. "Launchable" log jacks are not something you'll hear in a design meeting very often.
What's your favorite part of your job?
I love being challenged on a daily basis and constantly learning. BUT my favorite thing is definitely the people I work with. Working from home has been hard, not seeing my work family on a regular basis, but we try to get together every once in a while (virtually or in person). It's a great feeling to be able to brag to my friends about how awesome my coworkers are.
Clara with fellow employee-owners in the Portland office.
What advice do you have for others pursuing their PE license?
It feels very daunting at first and it stays that way for a while. Getting organized, sticking to a schedule, having lots of snacks, and taking breaks when needed were how I got through the study period. People study differently and take tests differently. I think it's important to understand what type of study and test taker you are and build a plan from there. Some people study best at home, but I needed a change of scenery to stay focused. Unfortunately, that's a bit harder now due to COVID, but even just changing rooms could help. Snacks, breaks, and posting up for hours at cafes were what worked for me!