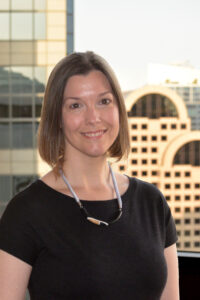 January Tavel has joined Parametrix as a Senior Cultural Resources Specialist. January brings more than 14 years of experience providing professional cultural resource management and historic preservation services throughout the Western United States.
She comes to Parametrix from ICF where she served as Senior Manager of Historic Preservation. She has worked for a variety of clients including the Washington State Department of Transportation; Sound Transit; King County Metro; California High Speed Rail Authority; City of San Francisco Department of Public Works; Ports of Bellingham, Portland, and San Francisco; Vale Oregon Irrigation District; Seattle City Light; Seattle Public Utilities; Bureau of Ocean and Energy Management; Bureau of Land Management; Oregon Department of Forestry; as well as private clients.
She specializes in proving program-level support for agency compliance with National Environmental Policy Act, Section 106 of the National Historic Preservation Act, as well as state and municipal regulations. Her expertise includes the preparation of regulatory documents, state and regional historic contexts, technical guidance, consultation support, agreement documents, and mitigation fulfillment. She is also experienced in evaluation and public interpretation of complex multi-component properties, such as historic districts, cultural landscapes, and traditional cultural properties.
January has served as project director or contract manager for more than 30 projects and task orders, ranging from less than $10,000 to more than $750,000 in size. She has been invited to speak at more than a dozen events throughout the country about work at the intersection of climate resilience planning, cultural resource management, and historic preservation.
She has a master's in historic preservation and is a qualified historian and architectural historian under the Professional Qualification Standards of the United States Secretary of the Interior.
At Parametrix, January joins the firm's Greater Washington Cultural Resources Group which provides professional cultural resources planning and management services to clients across the Pacific Northwest.