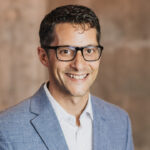 San Diego, CA – Parametrix has hired Pete Ruscitti as a Senior Consultant and the firm's Southern California Planning Lead. He has over a decade of experience in multimodal planning and conceptual design.
Ruscitti comes to Parametrix from WSP where he was a Vice President and Transportation Planner, serving clients in San Diego and across Southern California. He leads teams in conceptual design, mobility analyses, and policy development for a wide range of projects and programs including public transit, complete streets, bikeways, pedestrian facilities, corridors, and multimodal hubs. He is also experienced in developing communications strategies and leading projects through complex regulatory processes.
At Parametrix, he will focus on growing the firm's practice in California with a multidisciplinary team of planners, engineers, and other infrastructure specialists.
About Parametrix
Parametrix is a 100-percent employee-owned consulting firm helping clients deliver resilient infrastructure, livable communities, and environmentally sustainable solutions. From offices across the Western United States, our team of engineers, planners, scientists, landscape architects, surveyors, project managers, and construction managers are helping our clients imagine what's possible and create tomorrow, together. Learn more at https://www.parametrix.com/