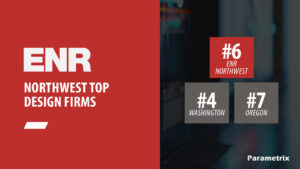 Engineering News Record Northwest has released their 2023 Top Design Firms list. Parametrix was ranked number six for the second year in a row. Rankings are based on revenue generated in Washington, Oregon, and Alaska in 2022.
By state, the firm ranked number four in Washington and number seven in Oregon. By category, Parametrix came in at number two in civil engineering and sewerage/solid waste and number three in surveying/mapping. The firm also ranked among the top ten in the categories of transportation, structural engineering, and government/public building.
Parametrix has 162 licensed professional engineers and four LEED accredited professionals in the Northwest region, which includes offices in Seattle, Tacoma, Puyallup, Spokane, Vancouver, and Mukilteo, Washington and Portland, Bend, and Eugene, Oregon. In 2022, the region generated $108 million in design revenue, 59% from transportation, 13% from sewerage/solid waste, and 11% from water supply.