Engineering News Record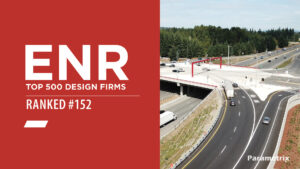 has released its annual Top Design Firms list, which ranks firms based on revenue for design services performed in the previous year. This year Parametrix was ranked number 152. Parametrix has been ranked in the top 500 design firms for 25 years.
In 2022, Parametrix generated nearly $145 million in design revenue, the largest share of which was in the transportation sector, followed by sewer/waste, water supply, and telecommunications.
Some of our most significant projects in 2022 were the Interstate Bridge Replacement Program at the Washington/Oregon border; Interbay Steel Forcemain Replacement for King County, WA; Fish Passage Improvements for the Washington State Department of Transportation; I-40 Corridor Study for the New Mexico Department of Transportation; and the I-84 Centennial Interchange to Franklin Interchange for the Idaho Transportation Department.
"Thank you to our clients and partners for trusting us to be part of some of their most significant projects. We're excited to create tomorrow together," stated Parametrix CEO John Willis.