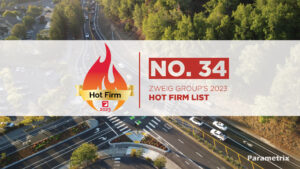 The Zweig Group has released their 2023 Hot Firm List, an awards program honoring the 100 fastest growing companies in the architecture, engineering, and construction industry in the United States and Canada. Parametrix ranked number 34 on this year's list, up from number 49 last year. This is the sixth year in a row that Parametrix has made the list.
Rankings are based on three-year growth in revenue, both by dollar and percent. Parametrix's revenue grew by nearly 40% between 2019 and 2022. Today, the firm includes 18 offices throughout the western United States.
"Parametrix has exceeded its planned growth goals established in our strategic plan, both organically and through geographic expansion and acquisitions. Through continued outstanding client service, product quality, and significant infrastructure funding packages, we have achieved and surpassed our growth goals. Since 2019, we have acquired five firms, growing our geographic footprint and enhancing our visualization, climate change and sustainability, structural, transportation planning and engineering, and survey offerings," said Parametrix CEO, John Willis.