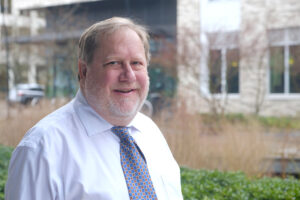 Peter Geiger, ENV SP has joined Parametrix as a Senior Planner based in Portland. He has over 30 years of experience providing environmental evaluations for energy, port, transit, transportation, military, and telecommunication projects across the Western United States.
Peter comes to Parametrix from WSP. His work includes alternative contract delivery, environmental compliance for multiple sectors, bridges, quality control and management, hazardous materials corridor studies, electrical transmission corridor studies, permitting, and National Environmental Policy Act (NEPA) analysis. He has worked with agencies such as the Western Federal Lands Highway Division, Bonneville Power Administration, Oregon and Washington Departments of Transportation, City of Portland, TriMet, Lane Transit District, Pierce County Transit District, and Sound Transit.
At Parametrix, he joins the Oregon/Idaho region Environmental Planning and Compliance team, supporting environmental compliance and permitting for agencies across Oregon, Idaho, and Southwest Washington.