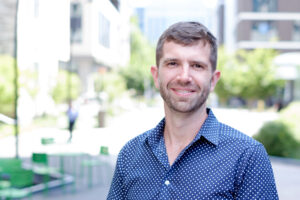 Ryan Farncomb, a Senior Consultant at Parametrix, has been selected to lead the firm's Oregon/Idaho region transportation division. Ryan has 15 years of experience as a transportation planner and project manager.
He joined Parametrix in 2019 as a Senior Transportation Planner and led the Oregon transportation planning group. His recent project work includes Metro's High Capacity Transit Strategy Update, SW 257th Avenue project for Multnomah County, City of Vancouver's Fourth Plain Safety and Mobility project, the Oregon Coast Trail Action Plan, Oregon Department of Transportation's US 101 Gearhart Facility Plan, and work on the Bend Midtown Crossings project.
As Oregon/Idaho Transportation Division Manager he will lead the firm's team of over 50 transportation planning and engineering professionals in Boise, ID; Portland, OR; and Vancouver, WA, serving municipalities, counties, transit agencies, and state departments of transportation throughout the region.