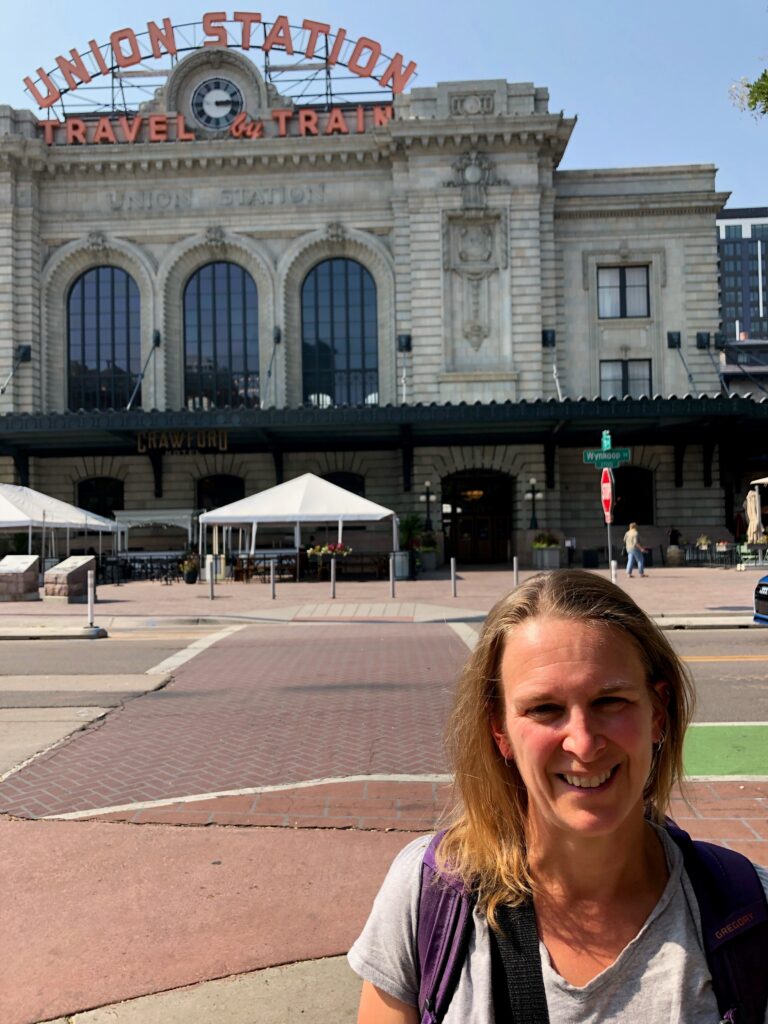 Transit systems improve livability, provide affordable mobility, manage congestion, and lower energy use and greenhouse gas emissions. From initial system planning and securing environmental approvals, through design and assistance with operations, Parametrix partners with agencies on all types of transit systems—commuter rail, light rail, heavy rail, bus rapid transit, streetcar, and ferry systems.
In this series, we'll feature some of the employee-owners at Parametrix who are shaping our transit systems. Today, meet Alicia McIntire. Alicia is a Senior Planner based out of Seattle, WA. She has 25 years of experience in transit, including transit system planning and multimodal, pedestrian, and bicycle plans.
How did you become interested in transit and transportation?
I have loved transit ever since I learned how to ride the bus as a teen to go ice skating with friends. My passions were reignited the summer after college graduation when I spent three months in Europe experiencing the efficiency and mobility afforded by extensive transit systems in cities large and small. While my career began in the land use planning realm, I had the opportunity to learn more about transportation and transit when I began working on the City of Shoreline's Aurora Corridor Improvement Project, which included significant investments to improve operations for buses and the rider experience. Coupled with the opportunity to write the City's first Transportation Master Plan, I was exposed to multiple facets of transportation planning, and my enthusiasm for all things transit has been growing non-stop ever since.
What do you like best about public transportation projects?
I am a firm believer that transportation is a quality of life issue and well-designed transit systems are an essential component of livable cities. I enjoy working with transit agencies to improve operations, develop capital investments, and plan for the future. I love being involved in the process to develop systems and services that benefit transit riders, provide access to educational and employment opportunities via improved transit service, and collectively reduce the negative environmental impacts associated with transportation by providing more efficient means to move people.
What career moment are you most proud of?
Adoption of the City of Shoreline Transportation Master Plan. With the exception of a couple of chapters, the entire document was researched, compiled, written, and published internally. I served as project manager as well as the sole author of the document and my learning curve during the process was almost entirely vertical. My project team did a phenomenal job over two years creating a comprehensive vision for improved multi-modal transportation in Shoreline. I am especially proud of its continued implementation in the City, particularly as new bicycle lanes showed up on multiple streets in the years following its adoption!
What is your leadership style and how do you put that to use managing projects?
I believe one of the most important elements of leadership is knowing what you don't know. With that understanding, I manage my projects by first building a team whose members have the skills and knowledge to address all tasks for a project. With a strong team in place, I focus on continuous communication among the team, with a strong emphasis on listening and encouraging questions. I also rely on my "five star-rated" organizational skills to help keep things on track and in order – you will rarely find me without a list!