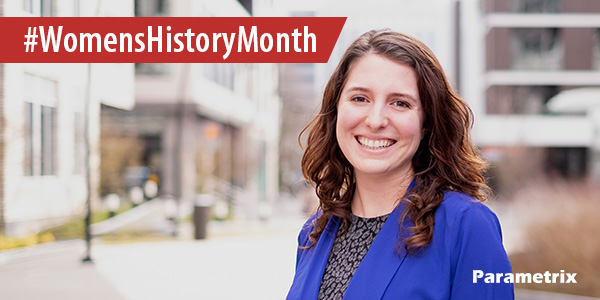 March is Women's History Month. We asked the women of Parametrix – who inspires you and what advice would you give to other women in the industry? Today we introduce you to Allie Reiling, EIT.
Allie is a water engineer based out of Parametrix's Portland office. In her four years of experience, she has already had the opportunity to make a meaningful impact on projects in her community and abroad. Last year, Allie took a few months off work to travel to Ecuador and work alongside women coffee farmers.
Why did you decide to become a water engineer?
I wanted to become an engineer so that I could have a tangible skill to help people and make our world a better place. And what other way to do that, than with one of our most powerful, yet essential resources – water.
Which women have inspired you to become an engineer?
I was inspired by my mom who used to take me to construction sites and point out the female heavy equipment operators. She always told me that I could do anything I set my mind to. She also introduced me to two strong female engineers who showed me how much of an influence civil engineers had on their community and how much they help people. Because of these women, I was able to picture myself as an engineer.
What advice would you like to give to women starting out in engineering?
Show confidence and ask questions. Curiosity goes a long way!