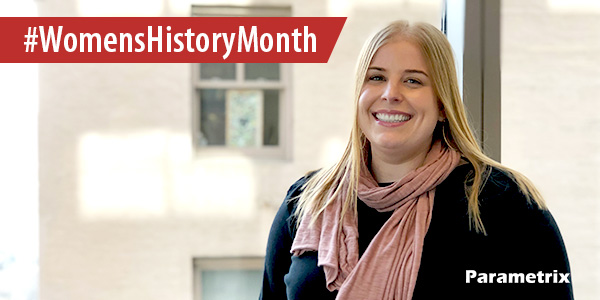 March is Women's History Month. We asked the women of Parametrix – who inspires you and what advice would you give to other women in the industry? Today we introduce you to Anne Timmermans, CCM, LEED AP BD+C.
Anne is a Senior Construction Manager based out of Parametrix's Seattle office, although you can often find her out at a project site. Anne is a recipient of the 2012 Building Design & Construction Magazine "40 under 40" award. She is the former President of the Pacific Northwest Chapter of the Construction Management Association of America.
Which women have inspired you in your career?
I had the good fortune of working with a cost estimator named Leslie Hirai at the first construction management firm I was employed at out of college. We would always work in parallel efforts on projects, and one day we were on a conference call for a major aviation pursuit. I was assisting with the pursuit, and one of the senior construction managers on the team kept interrupting me and cutting me off during my time to speak. She texted me during the call and said something along the lines of 'you do great work, and you need to chime in. Speak up and let this group know your take and tell this person they need to stop interrupting you.'  It was such a small, positive force that really helped me with my confidence in the moment. Several days later, I ran into her at the main office and thanked her. We ended up talking about the industry, her career path, and eventually out of all of that, forged an amazing friendship. Ever since, she has been a mentor, peer, friend, and confidante as my career has taken off.
What advice would you give to women going into construction management?
Something extremely simple and useful: Be your authentic self–whether you are in or out of the field. If that means you wear lipstick on a daily basis, there's no need to change that if you're going in to the field (unless it somehow violates some PPE or safety requirement, which it could in a healthcare facility or a certified clean room scenario, but I digress).
My second piece of advice is: Get out into the field and get to know the men and women of the trades. Your understanding of what's in the drawings and specifications and how to actually construct a project will be enhanced immensely. And, you might make some friends in the meantime!