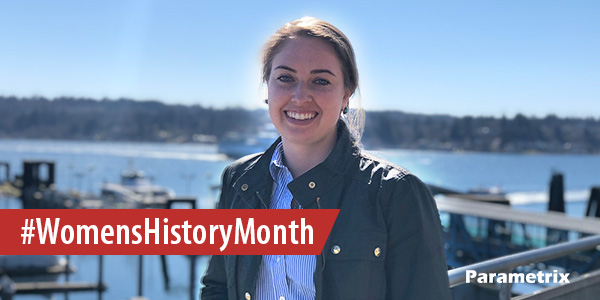 Mallory is a transportation engineer based out of Parametrix's Bremerton, WA office. While she has just under 10 years of experience in the industry, she has already accomplished so much. In 2018, she was selected to participate in the Leaders Emerging at Parametrix program. She also received the American Public Works Association Washington Chapter's Young Leader Award which recognizes young Public Works leaders who demonstrate commitment to the profession and potential for growth.
We asked Mallory – which women have inspired you in your career?
There are many women who have inspired me in my career. Some of them are at Parametrix, some of them are from outside Parametrix. One person who has given me a lot of career inspiration is my mom. For a large majority of my childhood, my mom raised my sister and I as a single parent (my parents divorced when I was very young). She worked full time in IT for County government in Colorado. Even though she had a demanding job, she was somehow able to make it to all of my athletic events, travel with my sister around the world for orchestra events, earn both her bachelor's and master's degree online while working full time, and be present in my life. I may not have recognized this as I was growing up, but throughout my childhood my mom was setting an example for me; showing me that it's okay to have career goals and to have a family life too. Even though it may be overwhelming at times, it will all work out in the end. She's inspired me to work hard and have the confidence to pursue any of the goals that I put my mind to.